Estimated reading time: 4-5 minutes
SANDY — Despite being the third most common cancer and the second leading cause of cancer death, colon cancer is one of the most preventable forms of the disease.
Intermountain Health is focusing on colon cancer throughout the month of March, hauling its giant inflatable colon to many of its facilities to educate staff, patients and the public about the importance of colonoscopies.
The inflatable colon is 12 feet long and weighs 113 pounds. Monday was the 10th stop, at Alta View Hospital, and the colon will continue to move to various locations in Utah and Idaho as part of Intermountain's awareness campaign. It shows parts of a healthy colon, polyps or bumps on the colon, malignant polyps that appear more vascular and have more redness, cancer cells, advanced cancer cells, and Crohn's disease.
The huge inflatable, affectionately dubbed "Collin the Colon," is on loan from Boston Scientific.
Dr. Austin Cannon, a colon and rectal surgeon at Intermountain Medical Center, said his patients don't always have a history of colon cancer in their family and are healthy — so they don't expect problems to be found. As long as the cancer is caught early, he said, it's treatable.
Colonoscopies can be portrayed as a "terrible ordeal," but, Cannon said, it's important to normalize the conversation about colonoscopies.
"Colon cancer can happen to anyone, and it's important to get screened," he said.
Speaking to patients who don't discover the problem until it has progressed to cancer, Cannon said he uses it as a learning opportunity and encourages patients to come in for colonoscopies more often and also tell family members at higher risk of colon cancer to also get a colonoscopy. For anyone with a first-degree relative with colon cancer, Cannon said, a colonoscopy is the only test they should use because it's better at identifying polyps that can often be removed immediately, reducing the risk of colon cancer.
Nichole Gardner, nurse manager in the endoscopy department at Alta View Hospital, said she hopes people look for signs of colon cancer and get regular and timely colonoscopies — at age 45, or earlier for people with a family history of colon cancer .
She said health professionals prefer to find cancer in the polyp stage, if at all, but it takes a colonoscopy to determine that it's there. The time for polyps to develop cancer is different for everyone, which is why the next appointment after someone's first colonoscopy will vary.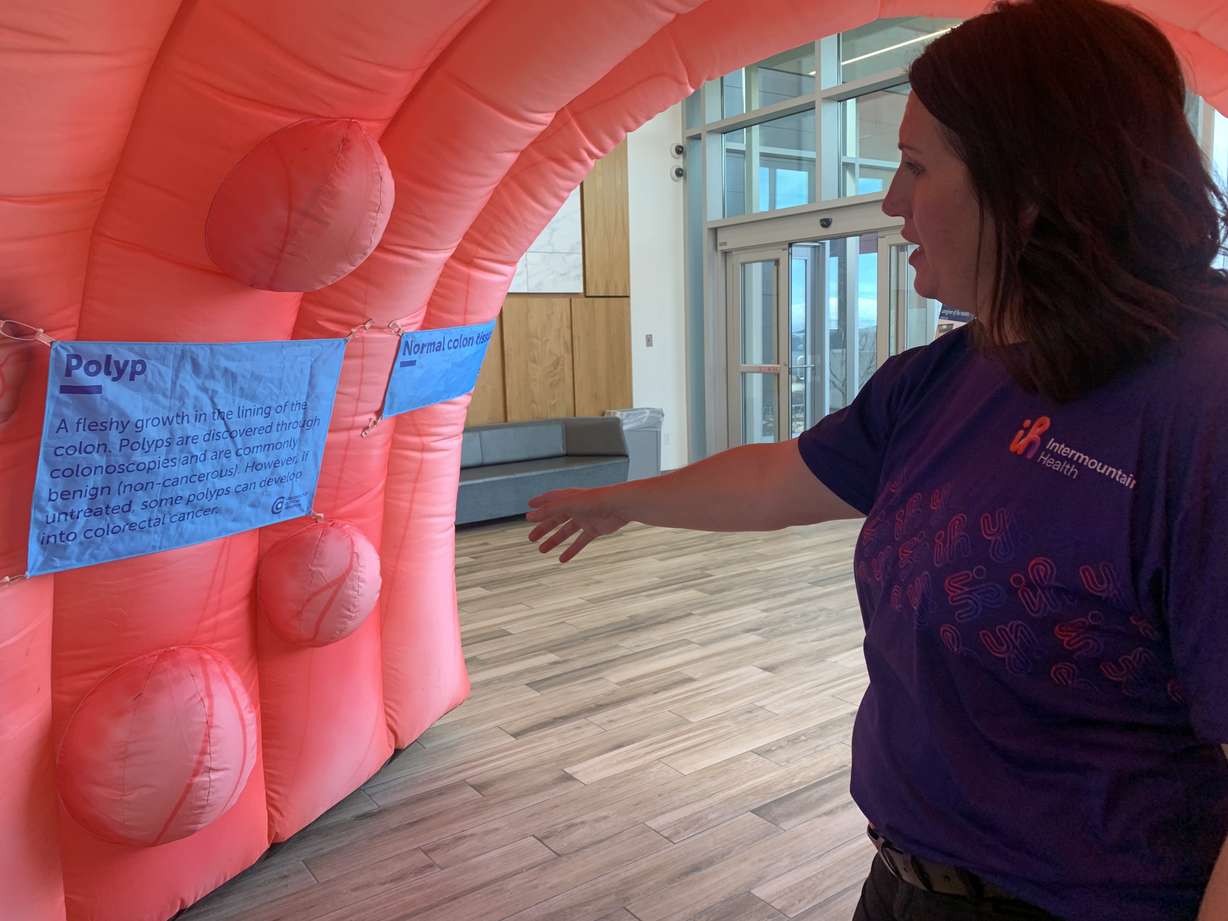 The age doctors recommend for a first colonoscopy recently changed from 50 to 45. Gardner said doctors are finding colon cancer in younger and younger patients, and estimate the average age range for diagnoses before 2030 will get even lower.
"We're finding that more and more (younger people) are having colon cancer, so come in, be sure to get screened," she said.
Gardner said some people are hesitant to come in because preparing for the procedure isn't ideal for most people, and the idea of ​​being put to sleep and undergoing the procedure also puts some off — but she urges people to not ignore signs and symptoms such as rectal bleeding, change in bowel habits, abdominal pain and unintentional weight loss.
Lifestyle choices can also help reduce the risk of colon cancer, she said, including not smoking, maintaining a healthy weight and routine exercise.
With the recommended screening age being lowered, adding a large group of people newly recommended for colonoscopies, and with many procedures delayed due to the COVID-19 pandemic, there are more people than ever who should be getting colonoscopies. Intermountain is working to be prepared for the increase and has established a streamlined process that will speed people up for the procedure.
Lori Smit, director of clinical operations for endoscopy at Intermountain Health, said after people fill out a form online, they are contacted within a day or two to schedule the procedure. She said the system is "patient-centered" and will work with a patient's schedule. People probably won't be able to work right after the procedure because they'll be sedated, but they should generally be able to return to work the next day, Smit said.
Seven hospitals and 17 physicians are affiliated through the central scheduling program, making the procedure available to more Utahns.
"It really gives patients options to choose from, and it's really about the patient and their choice," Smit said.
Intermountain started using the system in March last year and the first procedures took place in May. The program allows patients to undergo the procedure in an average of 35 days. Smit said there is typically a three to six month wait, so this shows that their program is very successful.
"Put it in, do it — it's just no big deal and it saves lives," she said.
×
photos
Related Stories
Latest Health Stories
More stories you might be interested in